Tier VIII Premium heavy tank made in U.S.S.R.
Plans for this vehicle were drawn up in the construction bureau of the Chelyabinsk Kirov plant from December 1943 to the summer of 1944. Further development and the construction of the first prototype took place at the Uralmash plant. However, the vehicle had no advantages over the other heavy tank designs under consideration, and its armor was seen as inferior to the IS-4 (Object 701), so the IS-6 was not selected for production. Tankpedia specs »
Live recording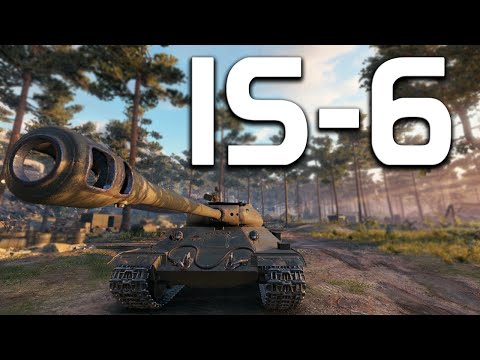 Battles with IS-6
831 battles
573 wins
68.95% win ratio
Achievements
26
69
1
20
1
Marks of Mastery expectation values
EU
RU
NA
ASIA
489
619
552
588
739
885
815
830
1,002
1,145
1,085
1,107
1,249
1,359
1,298
1,298
*Numbers are total experience points earned in a battle.
skill4ltu Index
Loading...
This may take a few seconds, depending on your connection speed. Thank you!
To see MoE Data, please rotate your phone to landscape mode and refresh the page!