Tier X Premium medium tank made in U.S.S.R.
The prototype of the A-22 hull was produced in 1949. The design incorporated rolled armor plates with maximum slope angles. Test firing showed that the hull was well-protected from high-caliber Armor-Piercing shells. The hull was used as a basis for the project of the T-22 medium tank. Development was discontinued after the preparation of the suspension and general design. Later, the best innovations were applied in the development of the Object 907. Tankpedia specs »
Live recording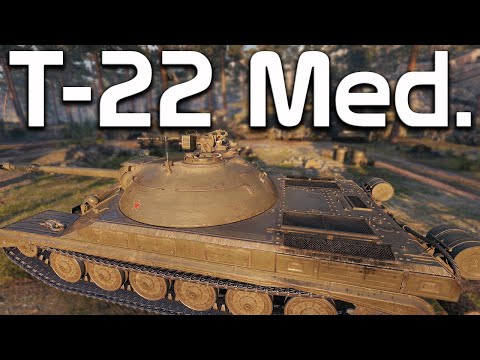 Battles with T-22 medium
233 battles
150 wins
64.38% win ratio
Achievements
3
21
13
Marks of Mastery expectation values
EU
RU
NA
ASIA
689
687
660
669
947
920
910
942
1,148
1,120
1,049
1,107
1,290
1,284
1,195
1,386
*Numbers are total experience points earned in a battle.
skill4ltu Index
Loading...
This may take a few seconds, depending on your connection speed. Thank you!
To see MoE Data, please rotate your phone to landscape mode and refresh the page!