Tier VIII Premium heavy tank made in U.S.S.R.
In 1956–1957, the Military Armored Forces Academy developed a speculative design for a new loading system on the IS-3 and T-10 heavy tanks. The IS-3 variant featured a double-row ammo rack with an automatic loading system. The crew was reduced to three members: commander, gunner, and driver. The turret was redesigned in order to accommodate the loading mechanism. The vehicle existed only in blueprints. Tankpedia specs »
Live recording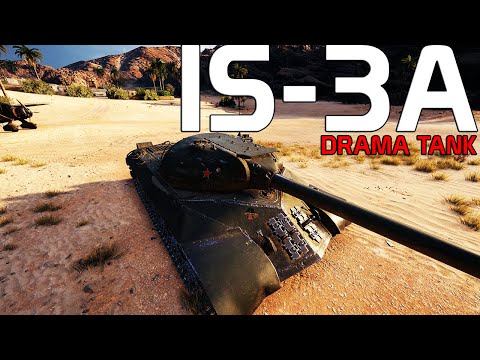 Battles with IS-3A
196 battles
147 wins
75.00% win ratio
Achievements
9
29
11
Marks of Mastery expectation values
EU
RU
NA
ASIA
683
694
666
707
982
986
967
996
1,250
1,253
1,235
1,278
1,502
1,478
1,494
1,507
*Numbers are total experience points earned in a battle.
skill4ltu Index
Loading...
This may take a few seconds, depending on your connection speed. Thank you!
To see MoE Data, please rotate your phone to landscape mode and refresh the page!