Tier VII heavy tank made in U.S.S.R.
Developed on the basis of the KV heavy tank, the vehicle initially had very few differences from the mass-produced model. It underwent field trials in January–February 1941. Eventually, several crucial changes were made to the design, greatly boosting the combat characteristics of the vehicle. By July 22, 1941, chassis and engine development was completed. According to some sources, in the fall of 1941, the vehicle was equipped with a serial KV turret and sent to the front. Tankpedia specs »
Best replay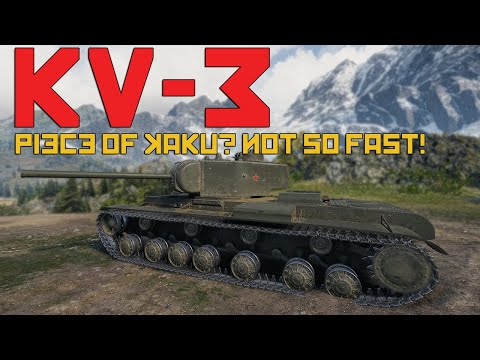 Battles with KV-3
140 battles
96 wins
68.57% win ratio
Achievements
2
12
1
2
Marks of Mastery expectation values
EU
RU
NA
ASIA
552
511
565
641
844
765
848
924
1,143
1,034
1,126
1,198
1,405
1,275
1,362
1,418
*Numbers are total experience points earned in a battle.
skill4ltu Index
Loading...
This may take a few seconds, depending on your connection speed. Thank you!
To see MoE Data, please rotate your phone to landscape mode and refresh the page!