Tier VI Premium medium tank made in U.S.S.R.
A modification of the T-34-85 tank, produced at Factory No. 183. Unlike the original vehicle, it featured enhanced front armor and reduced rear armor. Fuel tanks were transferred from the fighting compartment to the rear. When the suspension proved faulty, production was halted after just one prototype was built. Tankpedia specs »
Live recording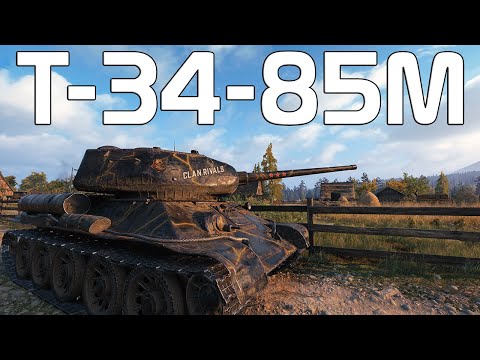 Battles with T-34-85M
103 battles
74 wins
71.84% win ratio
Achievements
9
32
3
5
Marks of Mastery expectation values
EU
RU
NA
ASIA
564
611
568
587
871
930
857
903
1,163
1,234
1,129
1,216
1,432
1,503
1,376
1,494
*Numbers are total experience points earned in a battle.
skill4ltu Index
Loading...
This may take a few seconds, depending on your connection speed. Thank you!
To see MoE Data, please rotate your phone to landscape mode and refresh the page!