Tier VIII Premium light tank made in U.S.A.
A project of an airborne light tank. Developed by the Aircraft Armaments as a replacement for the M41. The design incorporated many innovations. Two prototypes were manufactured, which underwent trials at Aberdeen Proving Ground. In June 1958, the project was canceled. Tankpedia specs »
V2 Equipment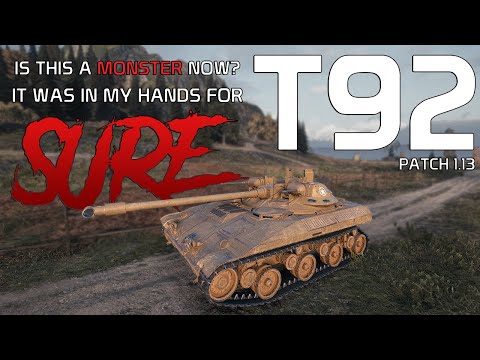 Battles with T92
179 battles
115 wins
64.25% win ratio
Achievements
5
9
3
1
Marks of Mastery expectation values
EU
RU
NA
ASIA
517
559
525
560
819
862
800
846
1,124
1,152
1,092
1,120
1,363
1,392
1,334
1,358
*Numbers are total experience points earned in a battle.
skill4ltu Index
Loading...
This may take a few seconds, depending on your connection speed. Thank you!
To see MoE Data, please rotate your phone to landscape mode and refresh the page!