Tier VI Premium medium tank made in U.K.
The British Sherman VC Firefly (A Squadron of the 1st Northamptonshire Yeomanry) was named after the Soviet town of Velikiye Luki. On August 8, 1944, the British organized an ambush at the edge of the wood near Saint-Aignan-de-Cramesnil and Sento. Joe Ekins, the Sherman gunner, laid fire on moving Tigers and destroyed all three German vehicles within 12 minutes. As it turned out, one of the tanks under No. 007 was commanded by the most successful German tank ace, Michael Wittmann, also known as "The Black Baron". However, it still remains unclear who destroyed Wittmann's tank as several British vehicles were engaged in that battle. Tankpedia specs »
Live recording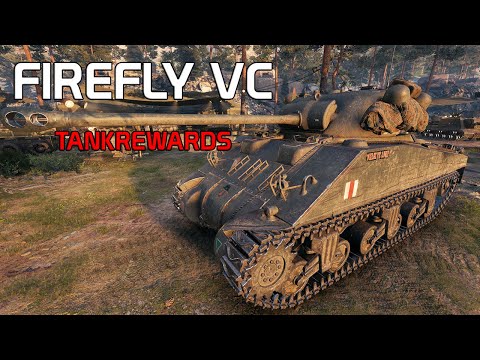 Battles with Sherman VC Firefly
136 battles
88 wins
64.71% win ratio
Achievements
2
15
9
Marks of Mastery expectation values
EU
RU
NA
ASIA
464
470
454
497
746
751
720
783
1,017
1,038
999
1,070
1,272
1,298
1,284
1,359
*Numbers are total experience points earned in a battle.
skill4ltu Index
Loading...
This may take a few seconds, depending on your connection speed. Thank you!
To see MoE Data, please rotate your phone to landscape mode and refresh the page!