Tier VIII Premium medium tank made in U.S.A.
The first M46 tanks that landed in Korea belonged to the 6th Medium Tank Battalion. The vehicles, known as "Ripper Pattons", were later allocated to the 8th Army and used by infantry forces as support vehicles. However, in 1950 and 1951, the M46 also saw action in several tank battles. By June 1951, the front line had stabilized and the mobile stage of combat action had finished, so the army started to use the vehicles in an artillery role. Along with other U.S. tanks that fought in Korea, M46 tanks were painted with "Tiger Face" markings. Tankpedia specs »
Live recording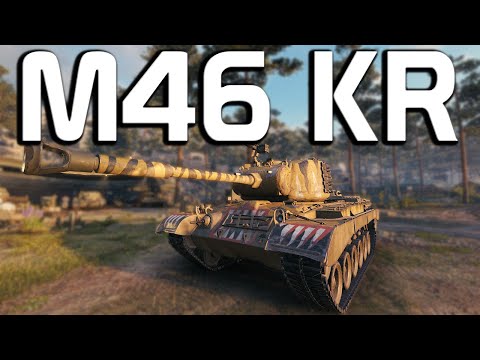 Battles with M46 Patton KR
359 battles
241 wins
67.13% win ratio
Achievements
7
31
8
Marks of Mastery expectation values
EU
RU
NA
ASIA
559
563
551
594
812
800
795
828
1,068
1,047
1,033
1,073
1,296
1,278
1,353
1,377
*Numbers are total experience points earned in a battle.
skill4ltu Index
Loading...
This may take a few seconds, depending on your connection speed. Thank you!
To see MoE Data, please rotate your phone to landscape mode and refresh the page!