Tier VII Premium heavy tank made in U.K.
Developed starting in 1944 by English Electric as a possible replacement for the A43 Black Prince. Some components were unified with the A41 Centurion. In 1948 trials of a prototype were started. The prototype mounted a Centurion Mk. II turret and a 17-pounder gun. Due to changes in Armored Forces policy and doctrine, development proceeded no further. However, the design later served as a basis for several post-war heavy tanks. Tankpedia specs »
Live recording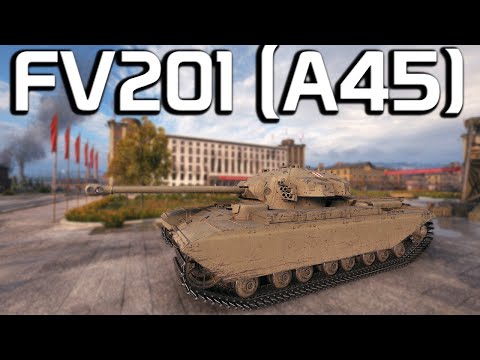 Battles with FV201 (A45)
95 battles
67 wins
70.53% win ratio
Achievements
6
17
1
9
Marks of Mastery expectation values
EU
RU
NA
ASIA
488
483
520
479
734
725
862
784
1,034
983
1,044
1,063
1,321
1,222
1,266
1,262
*Numbers are total experience points earned in a battle.
skill4ltu Index
Loading...
This may take a few seconds, depending on your connection speed. Thank you!
To see MoE Data, please rotate your phone to landscape mode and refresh the page!