Tier VIII Premium heavy tank made in U.S.S.R.
Development began in June 1941 at the Leningrad Kirov Plant and was completed by August, but plans were interrupted due to the complicated situation on the front. The KV-5 was to utilize some components of the KV-1. A new turret was designed, incorporating the 107-mm ZIS-6 gun. Two roadwheels and a single support roller were to be added on each side. A new 1,200 h.p. diesel engine was being developed for the vehicle, however it was not completed in time and was replaced with two V-2K engines. Tankpedia specs »
Live recording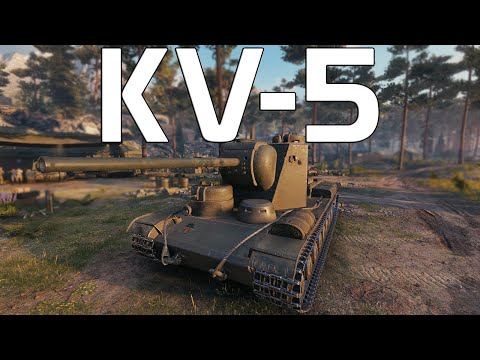 Battles with KV-5
156 battles
104 wins
66.67% win ratio
Achievements
7
27
3
Marks of Mastery expectation values
EU
RU
NA
ASIA
618
635
592
670
940
913
919
970
1,240
1,197
1,231
1,238
1,516
1,436
1,526
1,435
*Numbers are total experience points earned in a battle.
skill4ltu Index
Loading...
This may take a few seconds, depending on your connection speed. Thank you!
To see MoE Data, please rotate your phone to landscape mode and refresh the page!