Tier VIII Premium heavy tank made in U.S.A.
A project of an American tank developed in the mid-1950s based on the mass-produced M48 tank with elements of the T54 tank. A few turrets were built. In 1957, due to constant changes in requirements and protracted delays in development, the project was discontinued. In early 1958, all turrets were written off. Tankpedia specs »
V2 Equipment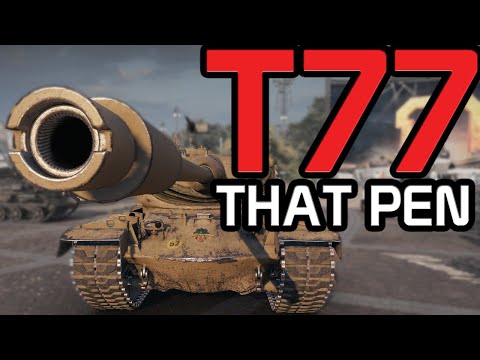 Battles with T77
125 battles
87 wins
69.60% win ratio
Achievements
6
24
1
6
Marks of Mastery expectation values
EU
RU
NA
ASIA
625
666
648
664
917
947
933
935
1,181
1,195
1,202
1,176
1,385
1,414
1,391
1,382
*Numbers are total experience points earned in a battle.
skill4ltu Index
Loading...
This may take a few seconds, depending on your connection speed. Thank you!
To see MoE Data, please rotate your phone to landscape mode and refresh the page!