Tier VII Premium heavy tank made in U.S.S.R.
Prototype of the KV-122 was created in the spring of 1944 by the Construction Bureau of the Chelyabinsk Kirov Plant on the basis of the KV-85 and differed from the latter in a turret with a 122-mm gun. The turret was copied from the IS-2 designed in 1944. After the production of the IS heavy tanks started, all work on the project was discontinued. Tankpedia specs »
3some builds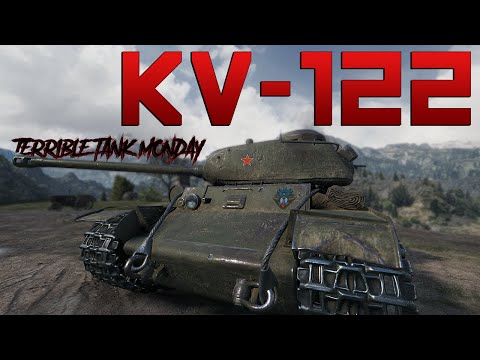 Battles with KV-122
89 battles
60 wins
67.42% win ratio
Achievements
6
18
1
3
Marks of Mastery expectation values
EU
RU
NA
ASIA
474
474
496
496
730
734
739
762
997
1,003
1,035
1,145
1,239
1,236
1,167
1,341
*Numbers are total experience points earned in a battle.
skill4ltu Index
Loading...
This may take a few seconds, depending on your connection speed. Thank you!
To see MoE Data, please rotate your phone to landscape mode and refresh the page!