Tier V light tank made in U.S.S.R.
Development of the A-20 tank started at Kharkov Factory No. 138 in December 1937. The project was a further development of the BT-7 tank and became a predecessor of the legendary T-34. Work on the vehicle was led by Mikhail Koshkin. On May 18, 1938, technical characteristics of the tank designated BT-20 were approved. Only a few experimental prototypes, with a wheeled caterpillar suspension, were built for training purposes. Tankpedia specs »
Live recording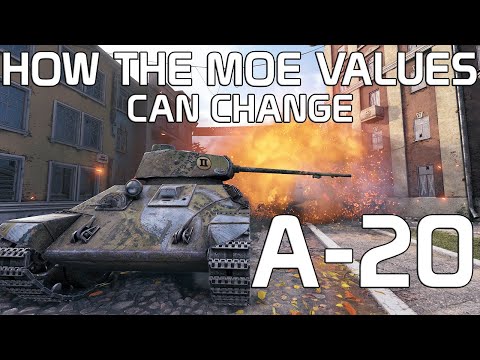 Battles with A-20
63 battles
37 wins
58.73% win ratio
Achievements
2
3
1
Marks of Mastery expectation values
EU
RU
NA
ASIA
255
243
251
244
450
406
456
415
709
646
752
658
972
902
985
910
*Numbers are total experience points earned in a battle.
skill4ltu Index
Loading...
This may take a few seconds, depending on your connection speed. Thank you!
To see MoE Data, please rotate your phone to landscape mode and refresh the page!