Tier VII medium tank made in U.S.S.R.
The project was developed at Factory No. 183 by engineer I.S. Ber in April 1941. The vehicle was to be manufactured in three versions with different armor, armament, combat weight, and speed characteristics. The creation of the prototype was scheduled for the beginning of 1942. However, the project was discontinued due to the outbreak of the war and evacuation. Tankpedia specs »
V2 Equipment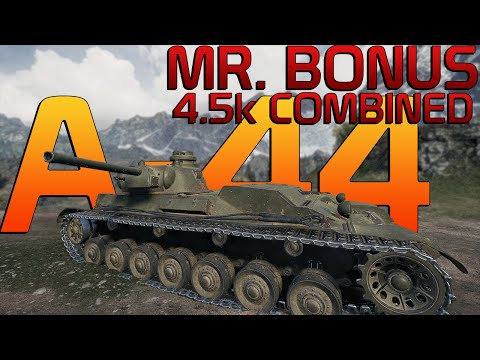 Battles with A-44
185 battles
127 wins
68.65% win ratio
Achievements
3
10
2
4
Marks of Mastery expectation values
EU
RU
NA
ASIA
445
442
447
500
678
666
682
751
952
926
952
1,017
1,207
1,167
1,149
1,216
*Numbers are total experience points earned in a battle.
skill4ltu Index
Loading...
This may take a few seconds, depending on your connection speed. Thank you!
To see MoE Data, please rotate your phone to landscape mode and refresh the page!